Now Playing

Fifty Shades Freed

Rated: [R] For Language, Strong Sexual Content and Nudity

Running Time: 1 hr 41 min

Synopsis: The next installment in the Fifty Shades franchise.

Movie HomePage

Preview (Requires Flash)

[Special FREE Movie Showing!]
Starts Friday February 23rd @ Noon
(One Showing Only)

Smurfs: The Lost Village

Rated: [PG] For Some Mild Action and Rude Humor

Running Time: 1 hr 30 min

Synopsis: The Smurfs embark on a journey through the Forbidden Forest to find a mysterious village.

Movie HomePage

Preview (Requires Flash)

Starts Friday February 23rd

The Greatest Showman

Rated: [PG] For Thematic Elements and A Brawl

Running Time: 1 hr 45 min

Synopsis: Inspired by the imagination of P.T. Barnum, The Greatest Showman is an original musical that celebrates the birth of show business & tells of a visionary who rose from nothing to create a spectacle that became a worldwide sensation.

Movie HomePage

Preview (Requires Flash)

Upcoming Movies
Show Times:
Click on 'buy tickets' to see show times.
No purchase required.
Ticket Prices:
Adult: $8.00
Child: $6.00

3D Ticket Prices:
Adult: $10.00
Child: $8.00

Matinee Times:
Click on 'buy tickets' to see show times.
No purchase required.
Matinee Prices:
All tickets: $6.00

[Matinees are subject to change. Call theatre to confirm matinee times and prices]


News:
[December 3rd 2014]
You can now buy your tickets online! Click the link "Buy Tickets" on the left menu.

[February 1st 2011]
The Robey Theatre now has a 3D projector for our 3D movies. Any movie with the "realD 3D" logo in the listing will be shown in 3D.

[January 27th 2010]
New photos under History.

[April 13th 2007]
We recently had our sign restored and held our sign relighting ceremony. It is our understanding that the sign hasn't been lit for more than 40 years. Here are some images from the event in case you missed it.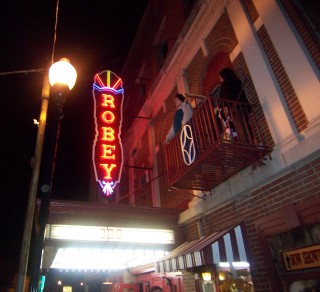 No outside food or drinks are allowed in the theatre. No weapons or firearms will be permitted in the theatre.